<1st term>Accounting and Financial Management for non-accountants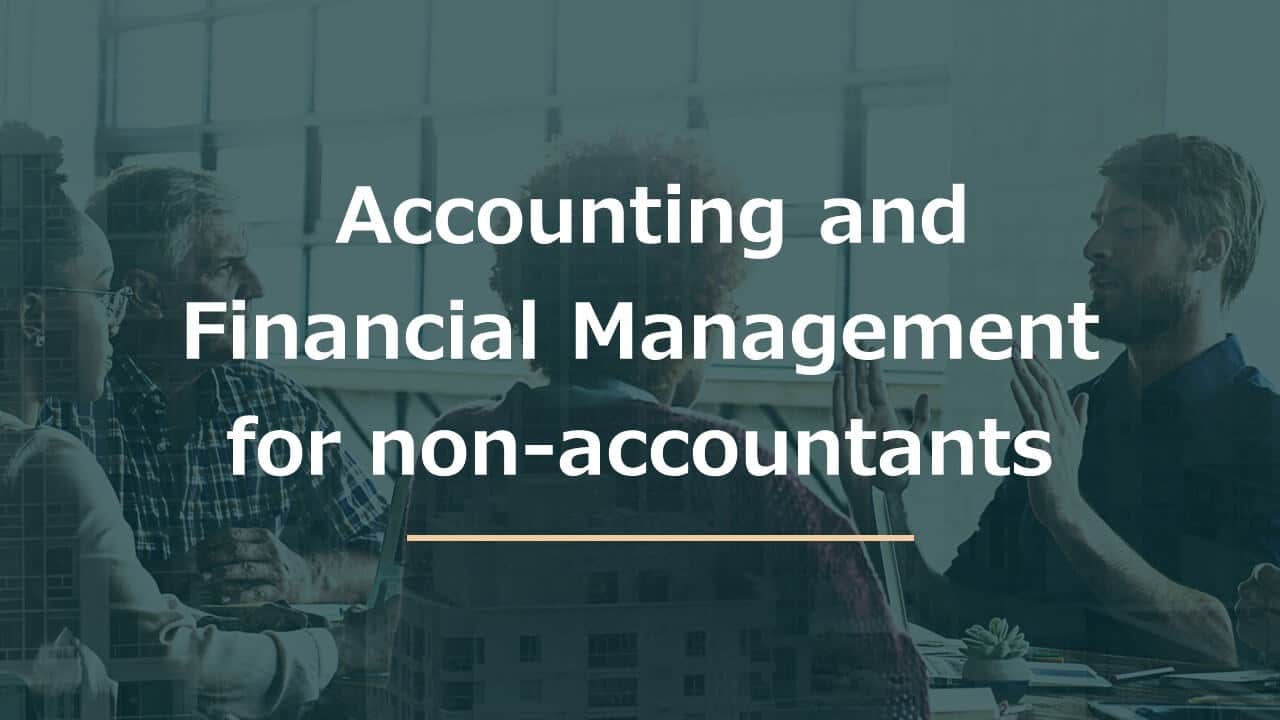 Seminar outline
For the persons who are not familiar with Accounting and Finance, most of them feel that it is difficult to learn Accounting and Finance. The course is open for those who feel that so please do not hesitate to take this course.
---
The details
Couse Theme
1st session: Why it is important to learn Accounting and Finance for non-accountants.
2nd session: What are the financial statements? BS? PL? and CF?
3rd session: The difference between Accounting and Taxes.
4th session: Think about strategies and tactics considering the break-even point
5th session: Implement the strategies ant tactic based on Accounting and Finance Management
Note: There is a possibility to change the theme depending on the progress.
Recommended participants
Managerial persons
The person who is willing to learning Accounting and Finance for Management
We look forward to having you join us.
*Please note that our competitors are not allowed to participate in this event.
Thank you for your understanding.
Lecturer
Saki Tamura
Tokyo Consulting Firm Brazil office
I joined Tokyo Consulting Firm in order to contribute the development of Japanese companies with learning experiences of Latin American regions, Accounting, and Finance.
I had worked at Leon office, Mexico and then I have worked at brazil office. Currently, it is the fourth year of working at overseas branches. During the period of working at overseas branches, I have realized that many companies and people have faced with the difficulties how to deal with accounting and finance.
I also have the mind that:
"Let us enjoy learning the accounting and finance"
Considering this vision, I decided to open this course, so please feel free to join it!
Couse date
1st session:[UTC+9] October 13th (Tue) 23:00~24:15
2nd session:[UTC+9] November 10th (Tue) 23:00~24:15
3rd session:[UTC+9] December 8th (Tue) 23:00~24:15
4th session:[UTC+9] January 12th (Tue) 23:00~24:15
5th session:[UTC+9] February 9th (Tue) 23:00~24:15
Seminar venue
This seminar will be held using the web conferencing tool "Zoom".
We will send you the URL to participate in the seminar by e-mail the day before the seminar.
Please make sure that you can use ZOOM on your PC or smartphone before the seminar.
Please use your full name on your ZOOM account.
For more information, please contact: f-info@tokyoconsultinggroup.com
Course fee
60 USD per person / per session (without taxes)
IF you apply for 5 sessions at the same time, the amount of course fee is 280 USD per person (without taxes)
Please note that this seminar is limited to the first 30 attendees.
It is able to pay the fee as JPY or the local currency.
VAT and other related taxes will be charged additionally.
One the payment has been confirmed, the zoom link to participate will be sent.
It is able to participate sessions at the middle of the course period
---
How to apply
Please use the form below to send us your information and the name of the seminar you wish to attend.
*The date and time of the event, the venue, the contents may be changed or the event may be canceled due to circumstances. Please note.
*Please be advised that we do not accept applications from other companies in the same industry.
*If you have any other questions, please feel free to contact us. [Telephone: +81 03-5369-2930]